motivating people, navigating success
STRATEGISCH STEUERN, AUF AUGENHÖHE FÜHREN

Leadership Development Training
________
You learn to understand the effects of different leadership styles on employees and gain an differentiated understanding of organisational context factors.
You learn how to deal effectively with group dynamics. YYou gain an in depth understanding of conflict dynamics and are able to recognize conflicts at an early stage. You are familiar with key de-escalation strategies and to develop solutions that have a lasting and positive impact. You evaluate your own leadership qualities, identifying growth areas and broaden your range of leadership strategies.
motivating employees
understanding and influencing group dynamics
leadership styles
conflict management
Our trainings are for executives and professionals wishing to enhance their people skills.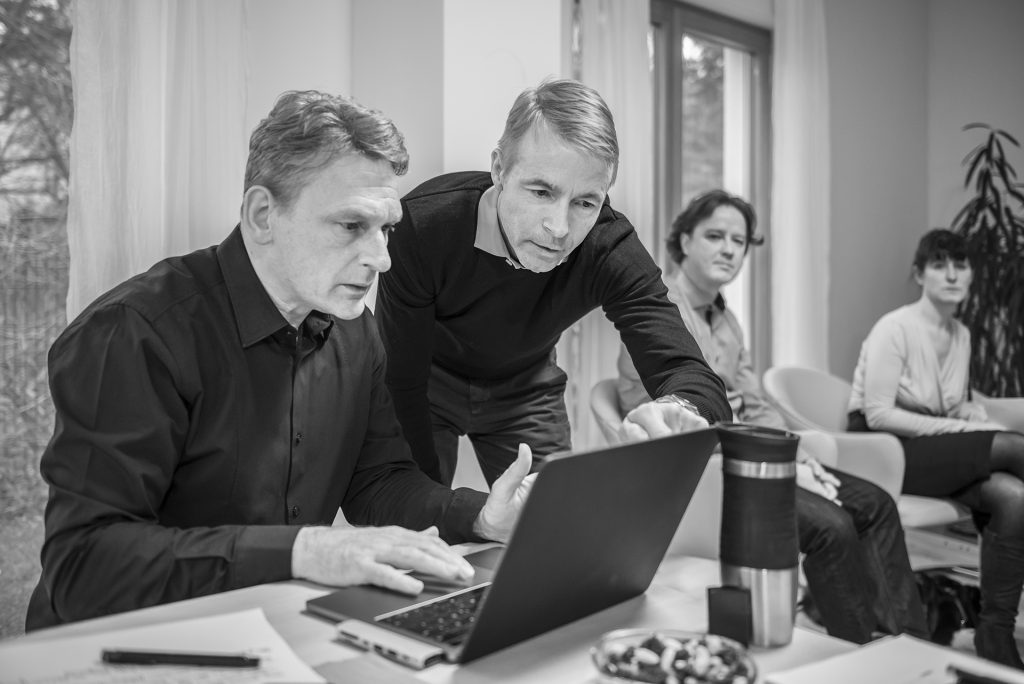 Conflict management
a key leadership competence
You learn to recognize and deal effectively with diffrent conflict types. You gain a deep understanding of the dynamics of conflicts in professional life, their causes and the effects of psycho-social factors on how they unfold. You are able to identify conflicts at an early stage and practice applying key communication techniques to de-escalate the situation. You learn to develop solutions that have a lasting and positive impact.
understanding different types of workplace conflicts
conflict dynamics
recognizing the stages of conflict escalation
applying deescalating strategies and resolving conflicts
Leaders and professionals wishing to improve their conflict management skills.
Solution-oriented
communication techniques
In your professional life you are probably often confronted with the challenge of evoking a co-operative solution-oriented attitude in your communication partner.
What strategy and communication technique can you use in order to create a constructive and open atmosphere? How can you structure the discussion in order to find effective and lasting solutions to which all parties are committed?
In our workshop you attain a clear understanding of solution oriented communication techniques as a essential leadership skill in teams and among peers. The techniques are simple but not easy.
active listening, pacing and leading
defining goals and soluction critieria
question techniques
identifying and activating resources
structuring discussion
Executives and professionals who wish to improve their communication skills.
Leadership Development
______
individually trailored programm
Effectively using the potential of a leadership development program:
We develop leadership programms specifically tailored to the needs of your executives.
Analyses
Leadership challenges and qualification goals
In a detailed briefing we specify the leadership challenges of your company and identify the key qualification goals.
Module
Iterative learning processes
Inputs that build on each other, continually deepening the participant's understanding of communication techniques, motivational factors and group dynamics. Illustrations and exercises based on the concrete leadership challenges of the participants.
Transfer
Practice groups and individual coaching sessions
Das Arbeiten in Entwicklungsgruppen sowie begleitende Einzelcoachings ermöglichen eine gezielte Fokussierung von Führungsherausforderungen und eine individuelle Entwicklung von Potenzialen.
Trainers
Organizational and communication experts with decades of leadership experience
Organisations- und Kommunikationsexperten mit langjähriger Führungserfahrung - Mit unserem Trainer-Team bekommen Sie Trainings auf höchstem Niveau.
Analysis
In a detailled briefing we specify the leadership challenges in your company and define qualification goals.
learning journey
We create the ideal conditions for a lasting impact on leadership practices and the leadership culture in your company.
mentoring
In between the individuel training modules our trainees work together in peer groups and have the opportunity to explore their personal leadership challenges in individual coaching sessions.
Trainer
We are a team of organisational and communication experts with years of leadership experience. Our mission: Trainings of the highest quality.